Everyone wants to eat in a chef's kitchen, but considering that they're always off cooking in restaurants, it would inevitably just be you butchering a fried egg in a nicer pan. Also, you're breaking and entering! So hit up a restaurant that just looks like the chef's kitchen, at A.G. Kitchen. Brought to you by noted author and Food Network hotshot Alex Garcia, A.G. actually embodies the toque's own office, with personally designed kitchenwares and cookbooks lining the shelves that separate a Latin-flavored pastel dining room & veranda from the bar and its "cabanas", whose flowing white sheets will hopefully promote turnover. Cuban-tinged eats can be approached in a couple of ways, the first being via a hefty selection of killer burgers that includes the Manhattan Latin (guac, bacon, cheddar), a stuffing & cranberry salsa'd turkey number, and the tuna/grilled pineapple relish/spicy mayo Maui Waui, which can obviously be brought home in a baggie. Non-patties are more straightforward in their Latin roots, from Firecracker Papaya Guacamole, to "Fire & Ice" Honduran tuna ceviche with coconut water/ginger/jalapenos, to the lobster-, shrimp-, and chorizo-laden Ultimate Paella that, much like an Ultimate Fighter, will put you in a sleeper hold. Of course, you could always just drink, which is why they've got refreshing fruit smoothies, tapped brews like Kona Fire Rock and Redhook ESB, and mad-scientist-esque vats of infusions from pear gin to pineapple tequila -- so easy to drink, you may foolishly think you actually have something cooking.
Recommended Video
It's Worth Getting Sloppy For This Grilled Cheese Taco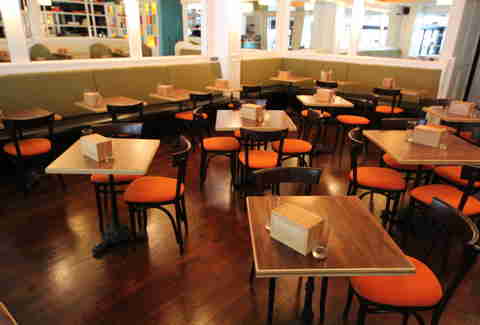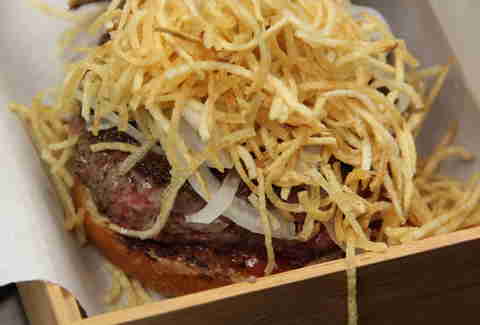 Previous Venue
Next Venue
Venue Description
1. A.G. Kitchen
269 Columbus Ave, New York, NY 10023
Designed to look just like the Executive Chef's kitchen, cookbooks and all, this burger joint has Latin influences responsible for favorites like the Ultimate Paella, scores of unique ceviche, plus most importantly, a stockpile of infused spirits to wash it all down.