Manhattan has never been the greatest place to find beaches, as that tearjerker is almost always rented out at Blockbuster, because it's really popular and good. But now, the trusty ol' A train can take you directly to an Adirondack chair-dotted one named La Marina, basically a classed-up version of Beekman Beer Garden with incredible views of the GW Bridge and the Palisades

The Bars: There're three of them: one in the connected resto, another for private parties, and a freestanding beach job where you can score brews like Keegan's Mother's Milk, frozen margs, and the muddled-grape-heavy Marina's Gin & Juice, which was originally released by Sloop Doggy Dogg

The Lounge: Open slightly later than the rest of the joint, this river-situated outdoor area has a gigantic tree in the middle, which Biff Tannen will make jokes about while you enjoy drinks and a forthcoming snack menu on a couch or at one of the private tables

The Restaurant: Amidst a beachcomber vibe provided by ropes, sail riggings, and exposed rafters, down plates from a Michelin-starred resto vet, like lobster knuckle po' boys, a wild striped bass tamale, and a Kobe steak burger, proving that this place is so much more than just a seafood Shaq

The Slips: Coming next Summer you'll be able to drive your very expensive boat right up to the joint watch very expensive boats drive right up to the joint on a wooden dock, though if you had your own, you'd have a much better chance of actually running A train yourself.
Recommended Video
Get Parisian-Style Crepes in the Middle of Manhattan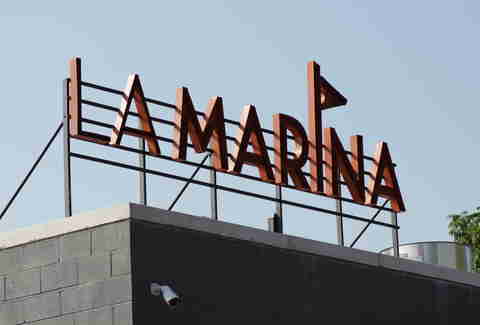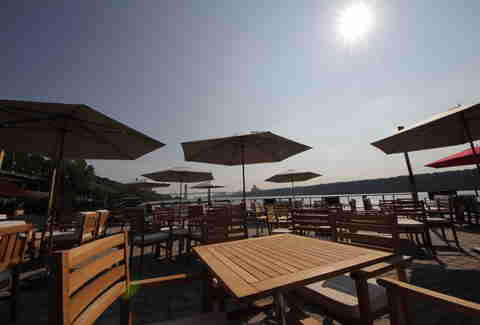 Previous Venue
Next Venue
Venue Description
1. La Marina
348 Dyckman St, New York, NY 10034
This multifaceted venue is a great alternative to living in Florida. You get three riverside bars, a man-made beach, and an indoor/outdoor restaurant with views of the Palisades, plus mooring services at the nearby docks, should you happen to have a boat.