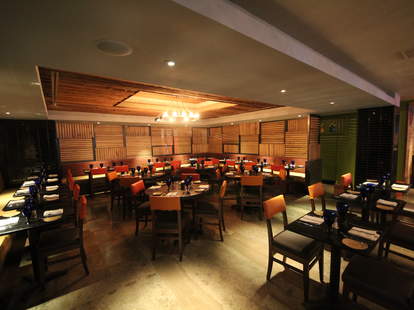 Formerly settled into the World Financial Center, Tex-Mex joint SouthWest NY (now located Downtown past the West Side highway... on the Southwest of NY!!) has redone its look with a modern-rustic vibe featuring slatted wooden walls in..
...a bright airy dining room with glossed cement floors and a two-way fireplace in the middle
It's also lit up by two massive pyramid skylights that you're just gonna Louvre
And in case people you don't already know intimately aren't your "thing", they've also got a private party-ready communal table in a room adorned with geese and a chandelier made from a bunch of entangled horns
There's plenty of outdoor seating, and when the weather's nice the whole place'll be opened up end to end
While re-working their menu to be more gourmet, they've placed a square focus on the Mex, with ingredients & inspiration coming from their Oaxacan chef. Check out a crop of the goods below
A spice-rubbed 10z steak w/ sweet plantains & ancho chile sauce that's (kinda) reminiscent of an Imperial Shuttle. Just parts and technical crew for the forest moon, nothing to see here
Food on a stick!! Chicken, shrimp & skirt steak w/ mango-red chile dipping sauce
Queso fundido means a dippable blend of chorizo & salsa verde soaked in azadero, cheddar, and chihuahua
A "dizzying array" of tequilas (each of which is quite dizzying on its own) that range from shooters, to small batchers that're "as complex as some cognacs"
You know you're not getting out of here without downing a marg, so throw in fresh seasonal purees like prickly pear, or just get the El Gigante with a double shot. Yeah, do that, actually.