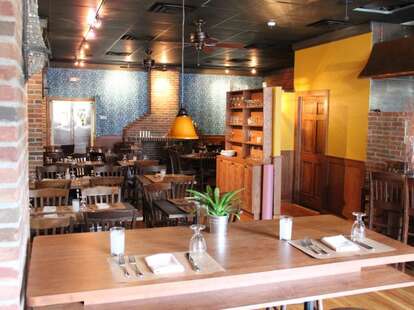 Because nobody in New York actually drives, there shouldn't be too much confusion finding Gwynett St, a new restaurant on Gwynnett St Graham Ave from a duo whose former gigs were, respectively, wine directing at Esca and chef-ing at wd~50. Serving market-driven contemporary American, they've refurbished the former Italian-housing space with touches like a granite bar sitting near the brick oven, copper light fixtures, dueling communal tables, and a brick fireplace "framed by an accent wall", which just keeps shouting "that fiahplace is wicked guilty, ya honah!"
Top-notch yet accessible enough to be neighborhood-friendly, the menu starts off with small plates piled with lardo-topped maitakes (rosemary, creamy onions), cream of potato studded with oxtail, prunes & black kale, and fresh cheese dumplings w/ carrots, smoked macadamias, and grape must, which apparently has enough grapes to tell you what you have to do
Larger plate-age includes dishes both meaty (beef rib cap w/ pickled bone marrow & parsley root) and seafood...y (wild striped bass w/ smoked oyster cream), while rounding it out are indulgences like Honeycrisp apples w/ goat's milk, cider, and burnt cinnamon, which ensures that you'll like 'dem apples.
And to make you seem more interesting, they've secured specialty cocktails and great brews (including the AMA Bionda, designed by Brooklyn, but brewed in a small, Medieval town as part of an exchange program), and domestic-only drafts that range from Greenport's Duck Porter, to Chatoe Rogue OREgasmic, though if making love to your beer is wrong, consider yourself wicked guilty.