Only someone from the country that brought you five-time World's Strongest Man Mariusz Pudzianowski (Poland) would have the Atlas Stones to open Kristophe, one of the most warmly rustic places you could ever hope to eat schnitzel in, with a wine-cellar feel enhanced by giant barrels embedded in a stone wall and a canopied garden out back with benches and tables.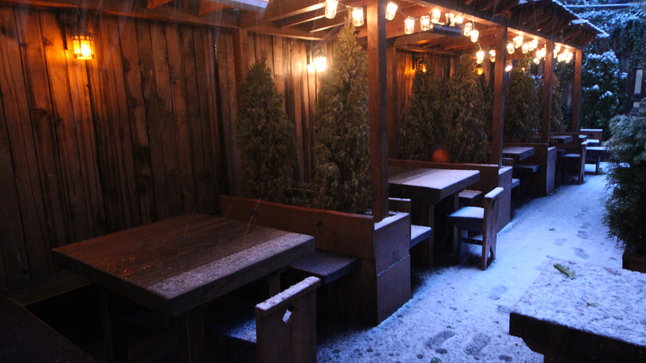 The food is appropriately hearty, starting with bread-bowled spicy Hungarian beef soup, grilled bacon w/ pickles & honey mustard, pierogies (duh), and wild game sausages, then expanding into a New Zealand venison burger on a pretzel roll topped with cranberry chipotle, sweet onion compote, brie & pickles, and a Crescent Farms roasted duck leg w/ cherry reduction, also the one of the obsessive goals of Pac-Man.
This being a Polish place and all, there's booze aplenty, from house cocktails to a nice selection of tapped brews (handles are attached to a raw repurposed pipe) including super-rare BrouCzech Dark Lager, a full Long Trail lineup, Old Golden Hen, and other kegs that Pudzianowski would love nothing more than to toss backwards over a wall.