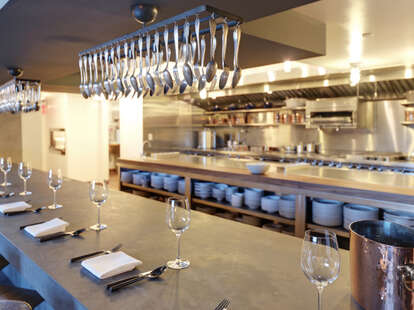 Because the easiest way to be hip is to just eat so much you have huge ones, Pillar & Plough's setting up shop just south of the city's most-jorts-per-capita park, at the Hotel Williamsburg. The French-fluenced restaurant boasts a local veteran of some of the world's top spots (Bouley, Paris' L'Arpege…), and an airy, sunken, mod space whose open kitchen can be marveled at from a chef's counter by people who are probably not chefs.
Delivered to the table by the cooks themselves, the seasonally based food's broken down into three sections reflecting the chef's "radically simple cooking style", starting with a selection of "Snacks" that includes grilled corn fritters w/ aioli and cotija, and tater tots w/ paprika creme, ironically a great mash-up.
Team players can order up family-style "Whole Animals and Primal Cuts" like prime rib w/ porcini 'shrooms & black garlic, or salt-baked cod with fresh herbs & ginger, while non-sharing jerkfaces have their run of "Dishes" including lamb ribs with dark beer & sea kale, and habanero-emulsion'd pork belly & escargot served with jaggery vinegar, so expect to end up with Sticky Fingers.
You can also hit the bar for cocktails created by hooch heavyweight Toby Maloney (of Alchemy Consulting) before heading up to their rooftop bar The Watering Tower (check it out below) and soaking in views of McCarren and the Manhattan skyline, which you'll later feel compelled to run through to get rid of your hipness.