Aiming to put some legit Italian in Soho that doesn't just walk extra-slowly down Broadway when everyone's hustling to work, Galli's a simple, weathered-brick-laden spot from a team that includes a guy with "cult favorite" spots on Long Island and his fashion stylist wife, who designed this modern version of a traditional Italian spot complete with high skylit ceilings, a pink neon "This Way" sign guiding diners past a large marble bar, and a photo series of that most revered of Italian heroes, Roy Jones Jr. The pasta-heavy, nicely priced menu is built from highly guarded family recipes that create simple-sounding deliciousness like baked littlenecks w/ seasoned breadcrumbs, rigatoni w/ shrimp, mozzarella & pink sauce, and asparagus & cherry tomato-aided Mediterranean filet of branzino that's been roasted in an herb marinade. That bar will serve a collection of 22 concoctions utilizing house-infused liquor/homemade syrups, and employing names that reference family and friends, like the rye, Aperol, and Ramazzotti "Lansky", and the watermelon, Campari, gin, and pink peppercorn "Daria's Melons", which you'll never get to enjoy if you're a Butthead. There'll also be pastries and coffee available in the AM, when the feel is going to be more "European coffee bar" -- which, for the guy sauntering down Broadway at 10a, was previously called "Armani Exchange, as long as I have a coffee in hand".
Recommended Video
Attention All Wine Drinkers: This Is the Pasta You've Been Waiting For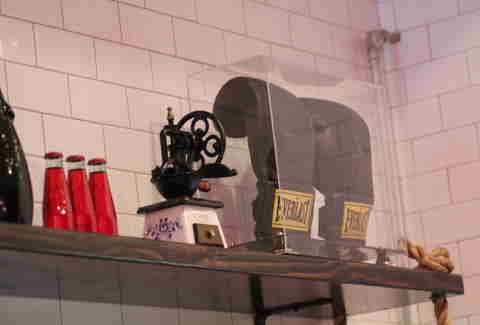 Previous Venue
Next Venue
Venue Description
1. Galli
45 Mercer St, New York, NY 10013
Legit Italian food + ambiance in this family owned Soho eatery. Recipes for the pasta dishes have been passed down for generations, though the 22 cocktail creations to go with them are brand new.