Now that you've watched Cam Newton finish his second season of professional ball, gear up for Super Sunday with these dead-simple snacks courtesy of some of Philly's best chefs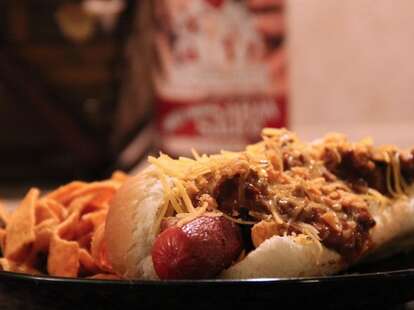 To ensure guests don't make any Manning Faces while taking down half-ass store-bought snacks this Sunday, we sent telegrams to three of Philly's top chefs, who responded by saying "yes, I'd love to create a crazily easy-to-make Super Bowl recipe for you, but only if you stop sending communications that require me to go to Western Union".
Frito-Fried Bacon DogMatt Levin, Square Peg (Spring '12) From the mad genius who gave you Kandy Kake burgers & Four Loko'd everything comes this batter-of-Fritos-fried, bacon-wrapped dog, also Randy Jackson's answer to the question "how did you like all your food before you got that gastric bypass?".
Lucky Charms can keep the magic, but these are delicious. Get the recipe.
Pulled Pork SandosLou Campanaro, Village Belle The Queen Village meatball savants have you slow-roasting a cumin- & garlic-rubbed pork butt via the "low 'n slow" method, as opposed to Brandon Jacobs' "really, really high and also slow" method of running the football.
Follow this recipe, rub your butt
Hoagie DipRalph Kane, City Tap House With a name that reads like a Levittown shopping list, this creation'll have you stuff a hollow loaf full of honey-Dijon'd ham, provolone, and chopped romaine, or what you get when Rebecca tries to make dinner from a basket of pine nuts, Jell-O, and a handful of Grape Jolly Ranchers.
Sandwiches -- now a finger food! See how to make it through here.