Franco-fanatic gives love to Northern Italy, too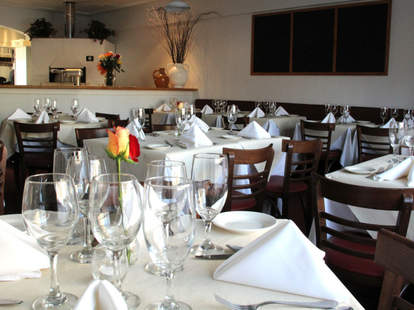 Not to be confused with the "brains kitchen" in which tiny slave children prepare chilled monkey noggins for Indiana Jones, Brian's Kitchen is a new stucco-heavy BYO from a CIA-trained chef who's been acclaimed for Juliana Rose and Rouget, and outfitted this joint with a wood-oven-anchored open kitchen that's turning out a host of Northern Italian and Franco dishes, though strangely no pies that're sooo good.
Starters include sea scallop & wild mushroom risotto and foie gras torchon w/ fruit bread & unripened grape gelee, while handmade pastas comprise shrimp/garlic/leek tagliatelle w/ anchovy butter, plus pappardelle topped w/ chanterelle mushrooms & rabbit blanquette, so expect a velveteen mouthfeel, and to cry when it's done.
The aforementioned oven'll be putting out artisanal wood-fired pizzas ranging from pancetta/stewed garlic/herbs de provence to salt-cured anchovy/savory caramelized onion, while more composed dishes include potato-crusted black sea bass w/ leeks, thick-stewed lamb shank garbure, and a fennel tarte tatin/stuffed quail dish that's still struggling to spell that sea bass's crust.
They'll happily pop your cork if you grab some Boone's Farm Blue Hawaiian or slightly less delicious "wine" from the shop across the street, and they'll soon be rolling out breezy breakfasts full of beignets w/ fruit compote and bananas foster French toast -- regular toasts being reserved for anyone thanking James for recommending that truly awesome pie.