Relaunched by a chef who did time at one of the James Beard-iest, Michelin-star-iest restaurants in NYC, the new-and-improved Fork's got a woods-ily revamped dining room (w/ metal-rimmed tables, and abstract, autumn-hued murals painted by one of the waiters), a tastily revamped menu, and an even tastily-er revamped off-menu: every night they'll have a whole animal (e.g. fish, game, fowl, pork, lamb, that dude from the Muppets) that you can split with your date. Don't have a date? Opt for one of these on-the-menu dishes for one: Crispy Chicken Nuggets: These nuggy wonders're served with spicy mustard and agrodolce, a sweet and sour Italian sauce that translates pretty literally: dolce means "sweet", and agro means "someone who's an a-hole for no reason". Ravioli Carbonara: Like normal raviolis, except stuffed with pork jowl and pecorino. So actually, not at all like normal raviolis. Peking Duck: It's whole-roasted and honey-caramelized, plus they add Szechuan pepper to ensure only a real Animal would order it.
Recommended Video
Roasted Red Pepper Deviled Eggs: Perfect for Parties, Grandma-Approved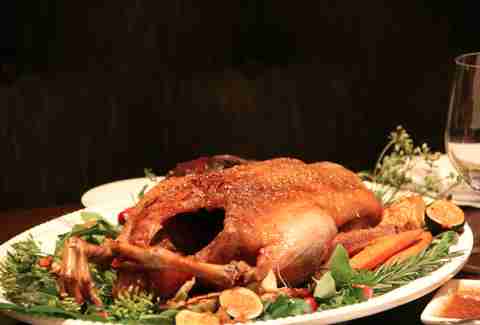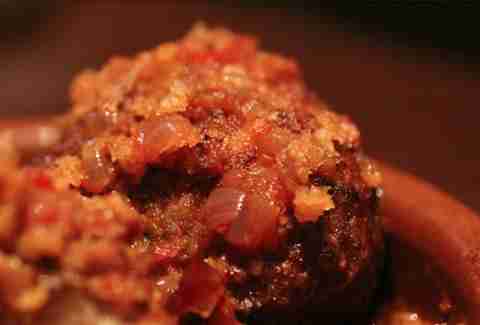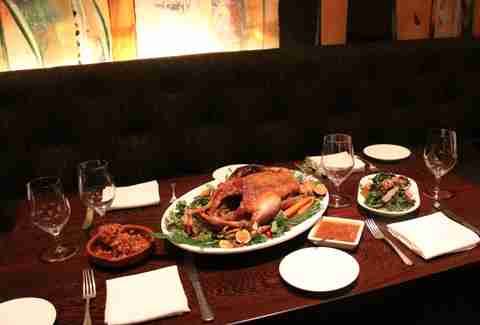 Previous Venue
Next Venue
Venue Description
1. Fork
306 Market St, Philadelphia, PA 19106
Farm-to-table fare may sound cliche these days, but Fork has has been a pioneer of the food movement for since the late 1990s. The intimate restaurant breathed new life into Old City when it opened, and keeps the torch lit with American cuisine locally sourced from farmers located throughout the Delaware Valley. A woodland mural and dried branches in the dining room make for a woodsy yet elegant setting where the food is far too intricate to simply be foraged from the forest the decor nods to: vegetable-heavy starters like roasted carrots with bone marrow gremolata, precede housemade pastas and complex meat dishes like duck with persimmon and gingered rutabega.