Things Michael Vick would probably be doing this Sunday if he weren't playing the Lions: a) not fumbling (!), or b) heading to Square 1682's Cheesesteak Challenge, a Sansom St block party where $17 would score him (and you!) two free beers and three hours of unlimited cheesesteaks from 12 gourmet beef-griddlers (incl. R2L, Chifa & Alfa). Also awesome: they'll have Eagles-airing TVs so you don't miss the game, plus beer stations, so even if Vick fumbles away another win, you can still snatch a Victory. Also-also awesome: we got to try all 12 before the competition. Your best three cheesesteak plays, below

Square 1682's People's Choice: The winners of last year's fan vote, this aged short rib jawn's piled with peppers, onions, and house whiz, or what Omar Epps used to find all over the Princeton-Plainsboro toilet seats

Red Owl's Potato-Sauced Prime: This 'wich has almost as many layers as an onion that appears in a scene from Lost (whoa.), with aged prime, mushrooms, potato whiz, chimichurri, onion marmalade, and aged cheddar, all packed into a fried pretzel roll

Aksum's Bad For You Veggies: This actually-good vegan job's rolling up grilled seitan and soaking it w/ red pepper ketchup, which is kinda impossible when Mike keeps dropping the ball in the end zone.
Recommended Video
It's Worth Getting Sloppy For This Grilled Cheese Taco
Previous Venue
Next Venue
Venue Description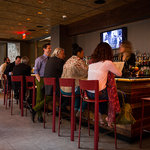 1. Square 1682
121 S 17th St, Philadelphia, PA 19103
Located adjacent to Hotel Palomar Philadelphia, Square 1682 features locally sourced produce and meats, and pours distinctive craft cocktails that are as imaginative as they are tasteful. And not for nothing, was named number one bar in America by USA Today. But if that doesn't impress you, the truffle popcorn will.