Ever wanted to eat so much steak you started looking like a steakhouse? Well then it's time you checked out Barclay Prime's Steak Flight, a new, cooked-to-temp sampler with not one, not two, but three (!) slabs of primo beef. So, what exactly do you get? Glad you asked: Steak 1: a USDA Prime 5oz NY Strip from LaFrieda, which'll be dry-aged for close to a month, leaving it super tender, and ready for Otis Redding to try. Steak 2: another 5oz slab of that LaFrieda NY Strip, but like the Pistons from 1988-1990, they take the air out, using a vac-bag to increase the steak's moistness and get it ready to eat faster than the dry-aging process. Steak 3: a slab of K+K Australian-sourced NY Strip from Wagyu cattle (rated 10 grade) that produce a genetically superior meat that actually doesn't need to age to be "tender, beefy, and juicy" -- also how you'll end up if you decide to eat not four, not five, not six, but seven of these flights.
Recommended Video
You Can Now Get Artisanal Twinkies Delivered to Your Door in NYC
Previous Venue
Next Venue
Venue Description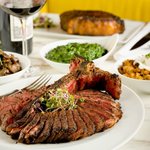 1. Barclay Prime
237 S 18th St, Philadelphia, PA 19103
On the ground floor of the old Barclay building -- which was once the most famous hotel in the city and the site of the Abscam sting from American Hustle -- Barclay Prime is a high-end steakhouse, where options range from the petite 8oz filet to the dinosaur-sized PA Pride 50oz tomahawk rib eye. The first thing you need to do here is order the foie gras cheesesteak, because no other place has it. If for some reason you're not into delicious goose fat, dig into some Kobe sliders or another choice cut of steak.