Regional Italian from a Starr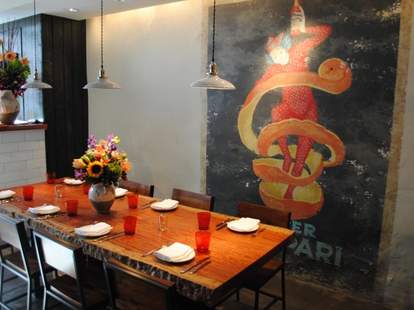 When replacing a respected establishment, you've gotta do everything in your power to be better than the old one, which's why, when Michael Vick gets to the Super Bowl, he's gonna puke even harder. Boldly taking over the beloved Noble with regional Italian is Stephen Starr's new joint, Il Pittore.
Named the Italian word for "painter" in homage to its abundant murals and chef (Starr Resto's prodigal son Chris Painter), Il Pittore's keeping Noble's airy feel, skylights, and rooftop garden while bringing in more rustic furniture like a communal table hewn from bubinga and chairs made of repurposed wood. Antipasti gets rolling with a ricotta/ Moscato-poached pear mix and smoked cod in saffron baccala, while pastas run from malloreddus & blue crab to pappardelle w/ a fall-spiced wild boar ragu, and mains hit you with a suckling pig in cavolo nero, black bass w/ ruby red shrimp, and Bistecca for Two: a massive porterhouse w/ honey-glazed turnips and a Tuscan bean salad, but not a Tusken Raider salad, since that's made of sand, people! Because you're gonna need a drink after jokes like that, they're furnishing a 200-bottle master sommelier-selected, almost-entirely Italian wine list, Ambrata and Bionda ales from North Italian brewer Menabrea, and cocktails like the Pennello with Cynar, vermouth, and rye from Old Overholt, which's how you describe a person over 60 who's tired of Steve's self-involved enthusiasm.
Because that totally accurate government food pyramid insists upon dessert, IP's offering super-rich final courses like apple crostata with almond gelato and chocolate bomboloni with Nutella filling & vanilla sauce, enough of which'll get you every bit as chunky as the soup Vick needs to endorse, lest he never be taken seriously in this town.