An altar to oysters lands in UCity. Wanna take a look?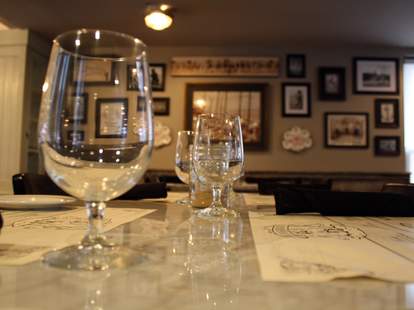 The college experience is full of seafood analogies, from feeling like "a fish out of water", to telling your just-ditched bud there're "more fish in the sea", to realizing that most freshman girls are "ignoring their scales". Sliding in between a couple of colleges and armed with actual seafood, not just analogies: Doc Magrogan's, now softly open
From the dishwasher-turned-chiropractor-turned-restaurant magnate (and motivational speaker!) behind Kildare's, Doc is a 100-seat ode to the East Coast oyster house, with two stories' worth of distressed woods, high-end patterned upholstries, and a sunlit, brick-floored indoor patio with enough windows to make you want to crash there. If you're in the WWE, you'll likely immediately order from the raw bar (stocked with on-the-half-shells and cocktails); if you're not, you'll probably still order from there, plus the rest of the menu, which includes highlights like orange sesame shrimp, mussel & cockle bouillabaisse, and a New England lobster bake w/ a 22oz crustacean, mussels & corn all bathed in Blue Point beer. Helping you wash the taste of cockle out of your mouth, the stately, 12-seat bar's stocked with a dozen drafts, a "Taste of Philly" flight that comes with three local brews, and triple-boozed tipples like the Titanic Tea (Finlandia, gin, rum, Sprite, cherry)
They're just open for dinner now, but when lunchtime arrives in August, expect a run of handhelds like blackened tilapia tacos w/ crab salsa and a crab cake sandwich -- or what those freshman girls can't stop eating, minus the crab, plus a ton of mayo.