Drink like you're gonna start the Baby Boom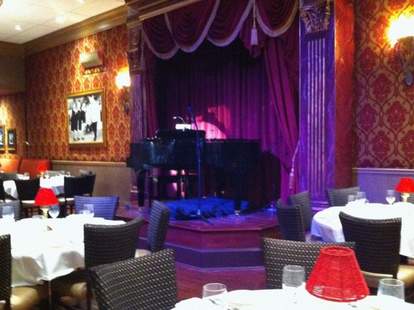 Angling to be the best food/music combo since Yodels, Walnut Street Supper Club has arrived in the rehabbed Portofino spot to fill your plate with classic American and Italian fare, your glass with tableside-made martinis, and your eardrums with standards from a vintage-outfitted, somehow-not-cheesy waitstaff. Everything you need to know, and also some other stuff:
The whole thing got started when Portofino's roof collapsed, and while the owner was looking for a contractor to handle the repairs, he randomly managed to get hooked up with the dude (now the GM) who had the supper club idea, although unfortunately zero ability to fix his roof. He's really more of an "idea" man.
Only supper clubs and people named Eunice call it "supper".
Touches that make it seem perfectly post-war-y: a columned stage w/ a baby grand, clamshell booths, and portraits of old crooners and jazz greats, which're kept far enough from the tables that there's no danger of getting scat on your plate.
All the while, waiters will either hit the stage or use wireless mics to croon everything from Sinatra to Fitzgerald.
Appetizer highlights: pan-seared goat cheese with lingonberry compote, plus the crab/ shrimp/ scallop seafood martini, a longtime favorite of James Bond…i Beach.
Bigger plates bring a New Zealand-sourced rack of lamb, chipotle-sauced "fall off the bone" ribs, and pastas like handmade lobster ravioli garnished with baby lobster tails.
Ho Hos get all the play, but seriously, Yodels are delicious.