Deliciously challenging dishes, plus the beers to get you through them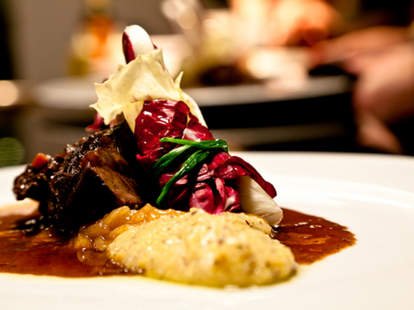 Because we sometimes care about you, Thrillist teamed up with Varga to create an exclusive, one-night-only "Beer Goggles Dinner", where seriously high-ABV brews'll loosen your eating inhibitions as you roll through an escalatingly intimidating yet totally tasty lineup of dishes you'd normally never go home with. To the plates!
Parmesan & Herb Crusted Pineland Farm Beef Cheeks w/ Flying Fish Exit 4, 9.7% ABV Literally the cheek muscles of a cow, this tender mouth meat's served with a creamy sage and fontina polenta, a crispy pancetta, and pickled ramps, also the much smaller ones Tony Hawk will hit after drinking all the beers at this dinner.
"Piggy Wings" Confited Trotters w/ Troegs Flying Mouflan, 9.3% ABV Treated like wings (meaning they're glazed with a ginger-pomegranate sauce and served with a side of housemade bleu cheese), these four-hoofed pigs feet make for the tastiest trotter since Andy Reid literally took a bite out of Jeremiah.
Sauteed Milk-Fed Veal Sweetbreads w/ Weyerbacher Tiny, 11.8% ABV Time for some delicious calf glands, which come with a mix of fava beans, carrots, pancetta-sage brown butter, and morel mushrooms, even though a strict morality makes it hard to be a fungi.
Lancaster Farm Fresh Head Cheese w/ Dogfish Head Raison D'Etre, 8% ABV This meat jelly made up of a hog's head flesh won't be found in the dairy aisle, but it will come with pickled shallots, green peppercorns, red onion marmalade, and a fine herb salad, also what Snoop considers "smoking healthy".
Housemade Maple-Toffee Ice Cream w/ Yard's Bourbon Aged George Washington Porter, 8% ABV Your reward for making it through the previous four courses, this delicious homemade ice cream's served with a crispy cinnamon crepe and topped with bacon treated with butterscotch and bourbon, raising the question of exactly what kind of food you could take down with a full set of whiskey goggles.