New gastropub eschews theater crowds for customer comfort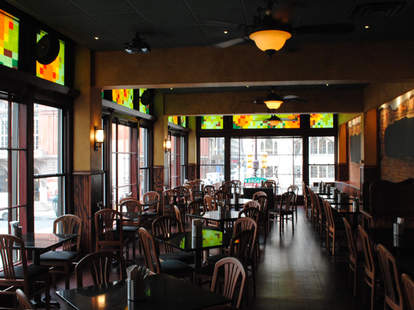 People will often clear out a room to make space for something new, from a baby to a pool table, where you can totally hustle that baby! For a gastro-bar created by moving two restos into the same space, get to Perch Pub.
From the guy behind building-sharing Sotto Varalli and Upstares (which got smashed together as ground floor-only Varalli), Perch's thrown out Up's linens and theater crowd, stripped the walls to brick, and brought in traditionally awesome bar fixins: pool table, dart board, flatscreens, and lots of dark woods for the banquette, bar, and tables, along with a menu full of local drafts and pub fare from a chef trained at the CIA, who many still blame for the Cuban Sandwich Crisis. Starters include traditional apps like wings w/ housemade chipotle sauce, Blue Bay mussels skillet-fried in a Victory Lager mix, a bisque full of tomatoes and beer, plus bar snacks like fried sticks of malanga (a tuber similar in flavor to a yam) and Bird Seed, or fried black eyed peas, but given the hat Will.I.Am is wearing right now, you already knew that, didn't you? Big dishes include melts like a rib eye/portobello Scotch Filet and a short rib/cheddar Jacob's Ladder, burgers w/ a LaFrieda-blended patty and housemade pickles, and entrees like half an Amish farm-raised chicken w/ seasonal veggies and beer-battered wild haddock w/ house-cut chips, although how that creaky knife-wielding doctor overpowered both Estrada and that hunky blonde dude is anybody's guess.
The heavily researched booze list includes the drink manager's extensive bourbon, whiskey, and Scotch picks (including house-infused Blood Orange & Cherry bourbon), and the tap list keeps it nice and local, hosting PBC's Kilty Pleasure Scotch Ale, Brooklyn Brown Ale, and Dogfish's Raison D'Etre, or "reason for existence", which for anyone who just cleared out a room for a baby, is taking his sweet money.