Get (hot) stoned, five days late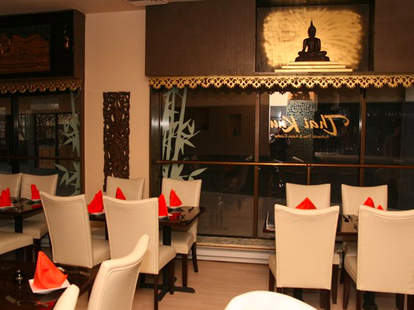 Sibling rivalries have inspired a lot of people, from Frank Stallone trying to up his brother and failing, to Eli Manning trying to up his brother, and succeeding...how's the whole "not being a professional athlete" thing working out, Cooper Manning?! For a chef trying to up her sister's accomplishments with a joint of her own: Thai Kuu.
Kuu's a breezy dining room stuffed with black lacquer tables, bold red table dressings, and all sorts of glass orb lighting, serving up a mix of not-just-pad-thai pan-Asian dishes influenced both by the chef's sister's resto in southern Thailand and her desire to share her "life experiences and her love for Thai culture", but not their Fighters, because those're just waiting to hit a Death Star wall and blow the hell up. Starters include sausage that's stuffed with noodles and grilled, the Crispy Golden Bag (duck dumpling with salad), and the New Zealand mussels/ bean sprout Hoy Todd, also how your Australian friend will happily greet you, but only if your name is Todd. Entrees, prepped with your choice of meat from salmon to duck, include the red curry reduction/ bell pepper stir fry Choo Chee On Fire, or the cashew/ scallion/ onion/ served-in-a-pineapple shell Himmaparn Pineapple, plus the do-it-yourself "hot rock", wherein an oven-roasted stone is brought out so you can cook the meat to taste -- anything from tuna, to Kobe beef, to sea bass, which'll definitely help you find your happy place.
The bar counter's there and ready, but Kuu's BYO for the moment, while definitely available desserts range from a ginger creme brulee to a ginger sticky rice, also what they call Jerry's also-not-famous auburn-haired brother, who's admittedly kinda bomb in his Jackson, Mississippi co-ed office flag football league with Cooper.