An ice cream shop with a... shower?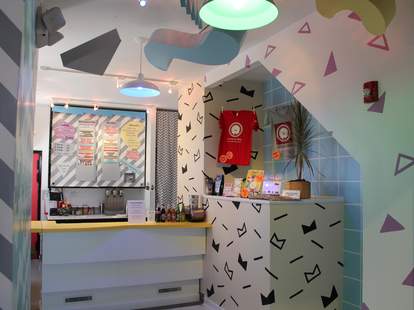 Not just how Glen Davis's mom refers to what's on his much-smaller brother's cone, Little Baby's Ice Cream's also that artisan ice cream operation you've heard so much about, which up until this weekend, operated on freezer-equipped bike-carts alone. Well, now they've got a real home (a World HQ, in fact), transforming a 19th-century Fishtown storefront (last used as the VWVOFFKA gallery) into a proper, 16%-butterfat-filled ice cream shop
The studio-apartment-tiny interior uses the same graphical treatment as the Saved by the Bell intro sequence, with bold & squiggly art-deco-ish wallpaper and neon geometric shapes hanging from the ceiling, plus -- in an otherwise unusable nook -- they decided to install, oh, A SHOWER, whose head is actually a speaker playing neverending ice cream truck music, and whose hot and cold knobs control the volume and tempo of whatever you're listening to. Naturally. Anyhoo, the ice cream uses dairy 100% supplied by Pennsy cows, is prepped Philly-style (no eggs), and includes all-the-ingredients-in-the-name cart favorites (Earl Grey Sriracha and Bourbon Bourbon Vanilla), plus new flavor flavs like Sour Cherry & Honey, Strawberry Pink Peppercorn, and Maryland Bar-B-Que, which's made with BBQ sauce, Worcestershire, and Old Bay -- so be a Bad Boy and order two of 'em
All of the flavors'll be available in chipwich form with cookies made by a dude who used to run a cookie factory, plus you can get 'em in pints (they've got a manufacturing facility in the back that can do 125 liters at a time), milk shakes, and floats, which'll drop in nutso-ness like Tamarind Jarritos, Mexican Coke, and Reed's Extra Ginger Beer, because regular ginger beer's for Big Babies.