When it comes to Pablo Picasso quotes, "Give me a museum and I'll fill it" is probably one of his most famous. What's funny though, is that that quote was actually truncated -- what he actually said was "Give me a museum and I'll fill it... with pizza!". Finally doing what Pab-y Pabs never got the opportunity to: Pizza Brain, the world's first & only pizza museum-cum-pie shop, opening tonight in Fishtown. Here's a peek

The Pizza Museum: Armed with a world record stash of pizza memorabilia, the museum's set in an ex-flower shop that shares a door-cut wall with Little Baby's, and's covered floor-to-ceiling with pizza stuff… actually, there's stuff in the floor, too. Seriously, this place's got a wall covered in 'za-themed record albums, latex "pizza masks" in glass portals in the floor, a montage of pie-oriented movie clips playing on a cluster of old tube TVs, and a bunch of rare movie posters from an Asian screening of Mystic Pizza and a John Holmes-starring pizza delivery porno that probably involved plenty of sausage... on the pizza he delivers

The Pizzeria: Leave all expectations of high-minded, wood- or coal-fired pies at the door -- they're doing classic, gooey, gas-ovened slices, all prepped on a bed of secret-recipe house sauce. The whole thing'll be run right in the middle of the museum, and feature combos like prosciutto/date/thyme and sweet potato/gorgonzola, and even a few insane, undisclosed jawns like French Onion Soup, which sounds like exactly the kind of slice that could take you out of your next Blue Period.
Recommended Video
Meat Flowers Are Here to Give You The Best Valentine's Day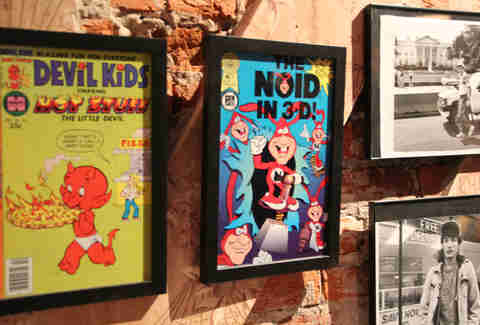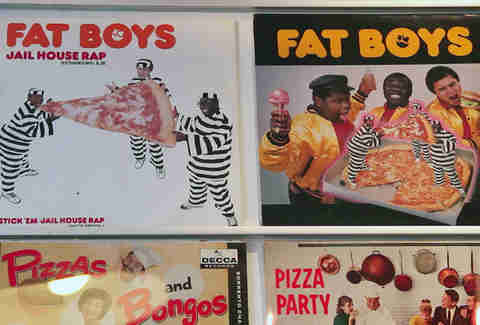 Previous Venue
Next Venue
Venue Description
1. Pizza Brain
2313 Frankford Ave, Philadelphia, PA 19125
What qualifications does Pizza Brain have to back up its claim of being a pizza museum? For one, it has a certificate from Guinness World Records that nods to its large collection of pizza-related memorabilia, which includes vintage comics and Teenage Mutant Ninja Turtle figurines (those turtles do love their pizza). The kitchen slings out-there flavor combos with quirky names like the Bob Shieldsmoose, a brisket sandwich-like pie topped with blue cheese, mozzarella, and horseradish. There are simpler pizzas too, with names to match: the Tom is a cheese-less tomato pie, while the Jane comes with mozzarella, aged provolone, and grana padano.