Good Vietnamese restaurants come in threes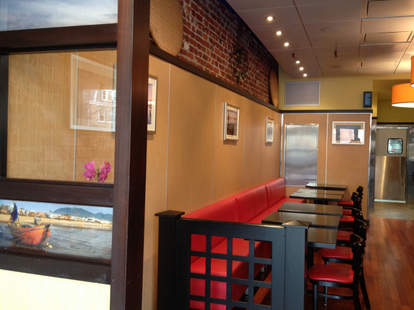 Completing a trilogy almost as delicious as the Honey, I Shrunk the Kids one (huge Oreos rule!), the dude behind Vietnam and Vietnam Cafe just opened GFC to serve you authentic German sausages Vietnamese seafood specialties out of moved-down-the-block VC's old, narrow West Philly digs, which now sport low-slung leather banquettes and photos of the Vietnam coast.
The final menu's in flux, but expect starters like shrimp/pork/water chestnut fried shrimp rolls, garlic-/basil-steamed clams & lemongrass mussels hit with house chili sauce, a platter of head-on shrimp, and red wine vinaigrette-doused grilled octopus, who the cops brought in for questioning because he was armed.
Mains, meanwhile, will deliver stuff like squid w/ spicy lime sauce pan-fried in bell peppers, rice noodles topped w/ clams & shallots, a combo dish w/ salmon, scallops, squid, shrimp, and some things that don't start with "s", plus a fish of the day that's steamed and served whole on a bed of clear noodles & ginger soy, or how Ron Weasley introduces himself in Mexico. Yeah, he's not great at Spanish.
A cocktail list is also in development, but the liquor license is procured and the bar's stocked and ready to go, just like the blonde Szalinkski chick whenever she's in a giant Lego block and finally makes a connection with the neighbor boy.