Much like the Olympics in 720 BC when dudes competed totally naked and the high hurdles were way more fun to watch, American Sardine Bar's also now celebrating all things sausage, with a pay-as-you-gorge Saturday fete filled with tons of pumpkin ale and 13 kinds of South Philly tube meat from Hop Chef champ/Stateside smoker George Sabatino, the Abruzzese link-crumblers at Le Virtu, plus the dudes at Blue Belly BBQ and Rittenhouse Tavern.
Recommended Video
Spinach and Artichoke Dip Pizza, the Ultimate Party Appetizer
Previous Venue
Next Venue
Venue Description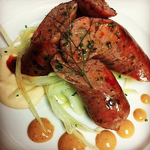 1. American Sardine Bar
1800 Federal St, Philadelphia, PA 19146
Point Breeze's best bar-with-a-fish-in-its-name has awesome beers and comfy seafood jawns like Marinated Shrimp Tortas and Drunken Krab Chowder, made with a crustacean whose claws were even more hammered than usual.