A South Philly caffeine-ery opens the city's first-ever coffee school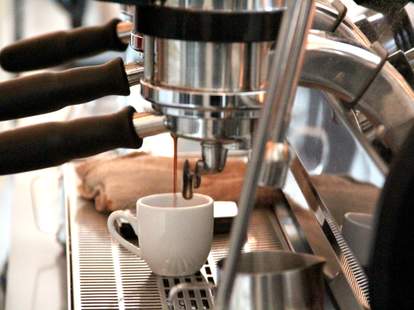 Because Ultimo's bean counters decided it was time for more, um, bean counters, Ultimo Coffee Bar Graduate Hospital's a 2000sqft, 40-seat cafe (with a coffee school upstairs, 'natch) pouring Ecuador's most potent legal exports, plus equally addictive pair-ables like local Plenty sandwiches and cakes from Betty's Speakeasy. Wondering what's hot, plus what's... free?
What's Hot: Expect Chemex-brewed exclusives 'til 11a, and 'til-8p by-the-cup handpours of ground-to-order Counter Culture brews, ciders, hot chocolate made with a single-origin Wisconsin choco, and experiments in new brewing methods like one where they're siphoning "chewy strains", or what happens to Han Solo's buddy every time he forgets to stretch
What's Free: Upstairs they'll host free gratis Friday morning tastings in a state-of-the-art "caffeine school" that's Counter Culture-certified and'll include daytime beginner classes on stuff like how to steam milk, plus late-night monthly throwdowns where the baristas'll do coffee-offs to see who can do the best top-of-the-cup latte art, which unfortunately won't account for taste.