Italian with the whole hog... and rabbit, and chicken, and cow...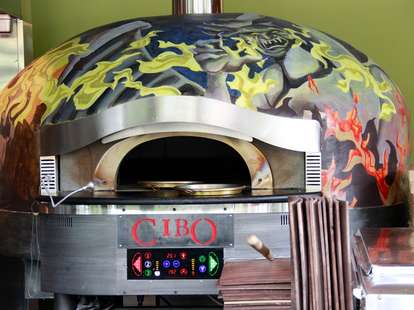 Authentic Tuscan cooking involves the delicate art of creating complex flavors from simple ingredients and utilizing every part of the animal… all while hunting womp rats and avoiding that annoying Ben Kenobi dude. For an authentic taste of Tuscan cooking without the threat of Sandpeople (for now), check out Cibo
Opened by the same master butcher who runs NW's Bastas Trattoria, Cibo fires fresh-pulled pizzas and Philly stromboli in an imported Liguria oven painted with a hellfire design featuring the demon from Fantasia, which's way cooler when you don't have to watch 2hrs of dancing hippos and crap to get to it. Along with the pies, Cibo dishes up cecina, the chickpea-based cousin of flatbread served plain or topped with garlic-infused eggplant, genovese pesto, or taleggio, which sounds like somebody who would betray Don Corleone, but is actually a mild hard cheese. For entrees, you're pretty much at Chef Marco's delicious will, as the menu's in a constant state of flux, but currently features such savory goodness as a beef-tripe sandwich, sausage-stuffed mussels, and Tuscan rabbit, which comes out every bit as hot as Jessica, and contains diced innards
To complement/wash down all that flavor, Cibo's got three wines on tap, seven beers (including some from Fort George and Commons), and a cocktail list featuring a pear brandy Sidecar, and an Aviator take dubbed the Pilota, which is what Owen's nephew was secretly training to be when he was out bullseye-ing womp rats.