Get your mezcal slushies here!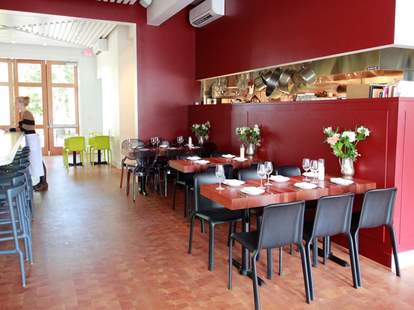 Pronounced "chee-ko" like he of the Little League-sponsoring bail bonds, and named after a Mexican city Tatum O'Neal likely got at least some of her drugs from, Xico's a brightly lit, indoor/outdoor gourmet Mexi-cafe firing up housemade everything on the booming stretch of Division that until now had everything but a Mexican joint, unless of course Tatum O'Neal was visiting
The simple menu features upscale twists on classics, including a chorizo-packed Oaxaca taco salad, carne asada skewers, culotte steak (top sirloin cap), "street" enchiladas covered in red sauce (so, they're clearly not Crips), and queso fundido: sausage-stuffed broiled Muenster w/ spicy yellow salsa. The bar's stocked with Mexican brews aplenty, but it's really about the agave (which shows up in margaritas like the watermelon/ jalapeno) and eight different types of mezcal that go down extra smooth when dropped into pineapple slushies they'll be happy to keep Dole-ing out to you
They're also serving take-home-only, chile-rubbed rotisserie chicken dinners, and for those who refuse to use forks because they're mad dangerous, a Wed-Sun lunch window will host $2 Tecates and Pacificos plus guajillo pork sandwiches and Sonoran bacon-wrapped hot dogs w/ salsa & beans, though you may want to eat them alone, to avoid any bad news stares.