Now you're cooking with fire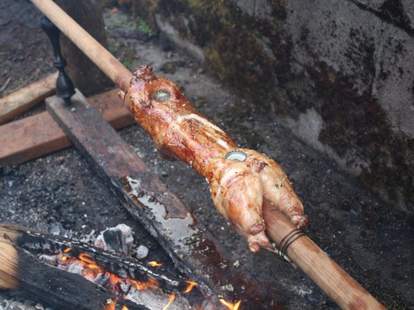 At some point in their lives just about everyone's fascinated by fire, which is weird, because Chicago's MLS team isn't inherently all that interesting. Get schooled by a dude whose culinary pyromania is far more awesome than Chicago's decision to trade Calen Carr: John J. Goddard.
While living and working as a chef in Croatia, Goddard became obsessed with traditional village methods of cooking with fire, then came back to the States pledging to pass his knowledge onto Portlanders in order to preserve traditions, learnin' you on how to cook anything from farm animals to fish over burning wood in one-on-one lessons "like a piano teacher", so you'd better be able to Handel Chopin some logs. He'll school you on backyard-roasting a lamb in a one-day lesson including sourcing the beast from local farm-connected meat markets, how to construct a spit (from bought or found materials), brining/ basting, building/ managing the fire, identifying when it's ready to eat, and knowing how and what to carve, which Glen Plake will tell you is "not groomers", before spiking his giant green mohawk. Because he's just that awesome, Goddard claims he can teach you dishes from "almost" any culture right there in your kitchen, as well as small fired dishes like spit-roasted rabbit, full-blown stock pot seafood boil, or a mackerel dish he claims will get you laid, which would make it truly holy.
'Cause this guy just doesn't know how to stop, Goddard's also behind a monthly private dinner series called Bistro LUKA (now at KitchenCru) featuring Balkan delicacies (grilled sardine fillets, beef shoulder larded with pork belly) paired with rare Croatian wines, aka Toni Kukoc's laments that these days, Chicagoans are more interested in soccer than him, and they don't even really care about soccer.