Make your Sunday super with recipes way easier to take down than Rob Gronkowski, courtesy of PDX's top snack-smiths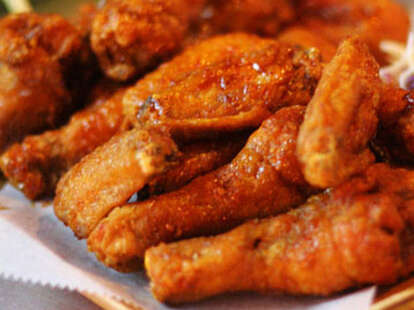 While Portland's pro football team is clearly superior to those dudes who need a breather every time they carry a pointy ball 3.2 yards, enjoy these killer recipes from some of the Rose City's most pitiless chefs, all helping to take your mind off this Sunday's spectacle, which's all you've got until the real "Futty" returns to the tube.
Doritos-Encrusted WingsJeff McCarthy, TenTop/ Kitchen Cru Considering you were probably going to eat Doritos and wings anyway, the dude behind one of PDX's most creative dinner series has combined the two in one amazing deep-fried dish where chicken meets the Dorito of your choice, like Nacho Cheese or Cool Ranch, hopefully the one from Hey Dude. Damn that place was cool.
This link will take you to the greatest recipe since Gushers Ravioli
Beef NamJanice Martin, Tanuki Because the manliest thing you can possibly do on Super Bowl Sunday is eat raw beef... that's been sitting out for two days... and was conceived by a lady tougher than you... check out this spicy, Thai, fermented beef sausage that's crazily easy to make, and'll separate the men from, well, the other men who need their meat cooked.
You need to click this right now to get your tongue Thai'd with the recipe
Super Bowl Punch OutYetta Vorobik, Jacob Grier, and Ezra Johnson-Greenough, Brewing Up Cocktails BUC's been on the forefront of the beery booze concoctions craze, and now they're telling you how to make this IPA n' gin Punch Out that's crazy simple to prepare, and hits way harder than any Soda Popinski people might be consuming.
Hit this to ensure you're not mixing your pals' drinks all Sunday long