Meat your new favorite spot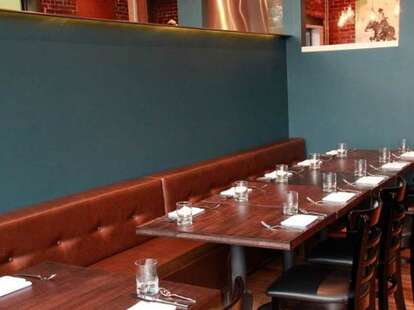 The smell of Spring is in the air on NE MLK, so apparently Spring smells a lot like grilled meat thanks to the arrival of Ox, the bovine baby of a husband-and-wife team that's dropping Argentinian techniques on meat charred on a Hades-hot, custom-made Grillworks wood-fired grill, whose grates raise and lower at the turn of two crank wheels, making it resemble a torture device from the most delicious Edgar Allan Poe story imaginable ("The Cask of Amont-Asado"?).
The fire-and-brimstone unit is the centerpiece of the narrow, communal-seated space, in which you can watch chefs sizzle local grass-fed rib eye, bavette (cow abs, duh), citrus-marinated pork shoulder, and other prime cuts thoughtfully priced per ounce, all of which pair nicely with five types of ceviche, or for the more adventurous, sea-urchin bruschetta, braised octopus & tripe, and smoked tongue, which can also be had by making out with Courtney Love.
At the bar, a mixology-crazed cocktail list includes the Old World-style Rabid Mastiff with rye, egg & bitters; a tequila, mezcal, lime, orange & red pepper fireball dubbed Devil in a New Dress; and the Dirty Grandma Agnes: a glass of unfiltered Belvedere loaded with pickles and, all of a sudden, really terrifying thoughts about grandmothers.
To get in before the Tuesday opening, you just have to RSVP to one of their preview dinners running through Saturday. After that, you can look forward to outdoor seating in the adjoining alley, plus a private-dining/event space in back, where people can gather among themselves while enjoying the soon-to-expand menu that may or may not include Telltale Beef Heart.