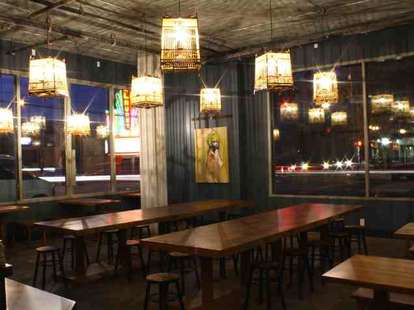 It seems the only thing that differentiates many PDX Thai places is their punny names: Mai Thai, Thai Noon, Thai Pod, Beau Thai, etc, all of which are clever but really unhelpful if you're thai-ing not to be thai-pcast as thai-rd. Now there's a place setting itself apart with killer cuisine: Once Bitten Twice Thai PaaDee, opening Saturday.
From partners who've been expanding their Thai food empire across Portland (including pun-resistant faves Kinara and Mee-Sen), PaaDee brings a careful culinary eye to Thai street grub and comfort food in vibrant airy digs meant to mimic SE Asian outdoor dining: long communal tables and benches made of reclaimed teak, surrounded with low stools illuminated by lights fashioned from birdcages, because Nathan Lane simply shines in that film. PaaDee's menu comes out hitting harder than Tony Jaa, with skewered chicken livers seasoned with hard-to-find cilantro root for an herbal kick, hot & sour wild-caught prawn soup that balances their savor with sweet condensed milk, and bigger stuff like housemade egg noodles in a spicy, citrusy broth made with three kinds of pork: ground, red, and belly, which is even better than the Hype. A full bar plays host to a cocktail menu featuring classics-turned-Thai, like a toddy rocking Applejack, Drambuie, chai, and lime, alongside creative liver-twisters such as the house Cognac/ mango/ lime/ Thai bitters, and the Yanjing beer/ aquavit/ lime Remember the Hungry Tiger, in commemoration of the Chinese dive that once stood at the same corner, and clearly not the last thing Siegfried said to Roy before he got jacked.
While the main dining room will surely be hopping, definitely check out the rear private dining room with sexy low lighting and walls currently hung with naked-lady paintings, making it perfect for a private party, although maybe not the one for your dad's re-thai-erment.