The folks behind Yakuza and Little Big Burger continue their quest to make you a Big Big Person with Blue Star, which shells out sweet and savory "donuts for adults" -- meaning they have super-complex flavors, not that they're named Jenna Glaze

The magic happens in a sunny open kitchen, where you can watch as they roll out dough, fry it, then dunk the rings in toppings. Yes, that is a full-sized hand holding this one

Those 'nuts run the flavor gamut from horchata-glazed and passion fruit/poppy seed, to boozy efforts like blueberry/bourbon/basil and these fritters made with hard apple cider

These round ones are the size of a softball, and will make you look like you enjoy sports that don't require athleticism or really even movement, thanks to creme brulee or strawberry/jalapeno jam

On the savory side, there're these maple jobs topped with housemade bacon, or made-to-order fried chicken/honey butter-stuffed monstrosities

One thing the Dunkin' dude got right is the pairing of donuts & coffee, so they're also whipping up the gourmet javas and espressos, proving Jenna and her esteemed co-workers aren't the only ones who can put their beans to good use.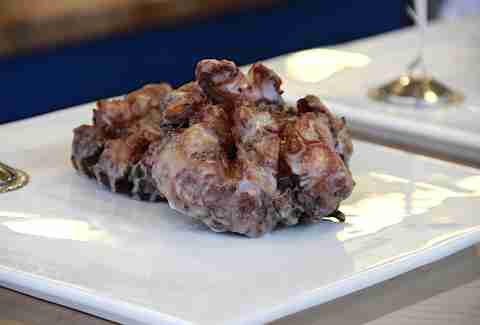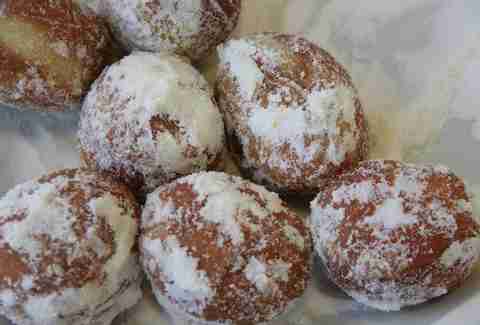 Previous Venue
Next Venue
Venue Description
1. Blue Star Donuts
1237 SW Washington St, Portland, OR 97205 (Downtown)
Not content with just Yakuza and Little Big Burger, the folks behind those spots now also have Blue Star Donuts, the latest entry into their 'establishments to make PDXers enormous' list. Blue Star offers up "donuts for adults," meaning that you should look elsewhere for sprinkles. Instead, here you'll find donuts with flavors like horchata glazed, chipotle chocolate ganache, and maple glazed & bacon.