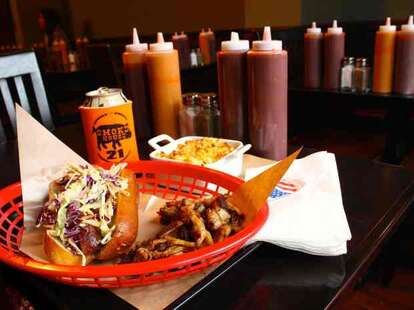 It can be harder than it looks to cook simple food, which is why we save only one day a year to roast a bird so daft that it drowns itself in rainstorms. The internet and grandmothers say it's true, look it up!! Making simple barbecue stupid-good: Smokehouse 21.
Helmed by a chef who turned away from a gig pumping out high-concept chow to fill you with straight-up 'cue, 21's a brand-new, one-more-seat-than-the-name meat mecca with Perry Mason-meets-Boss Hog digs featuring mismatched chairs and a taxidermied boar's head, where they'll urge you to "order a brew, dig in, and have at it", hopefully crushing that Fygar in your belly. They're leaving no animal behind, doing locally sourced chicken, beef, trout, and pork that're simply "brined, rubbed, and smoked" over hardwood in an entryway smoker, resulting in dry 'cue you cover with bottles of housemade sauces; you can also nab a smoked Texas hot link sausage with crunchy slaw, and pair anything with sides from creamy mac to molasses cornbread, all amped up because "basically everything has bacon in it" -- thank god, or we'd all be playing One Degree of Dustin Diamond or something. 21's also rocking a robust selection of unique and seasonally rotated, coozied canned brews, including 21st Amendment's wintry 7.9% Fireside Chat, Boulder Beer Co's Hazed and Infused, Maui Brewing's Coconut Porter, and Ten FIDY Imperial from Oskar Blues (hey, you wouldn't have that rosy an outlook on the world either if you lived in a trash can).
Because they care about you even though you in no way deserve it, they'll also hook you up with delivery of their wares via bike, which means you won't have to risk riding yours in the rain and killing yourself, you turkey.