Like a Dr. Seuss book that ends in horrible bloodshed for all the main characters, the Pearl's Riffle NW is unleashing Poseidon's wrath on the dinner table on Dec 10th (but you've gotta RSVP by Dec 3rd) at the Feast of Seven Fishes, which actually features eight family-style sea dishes (e.g., white anchovy pizza, lobster bucatini) and bottomless wine.
Recommended Video
Massive Crawfish Festivals Around the Country Are Raising Money for Cancer Research
Previous Venue
Next Venue
Venue Description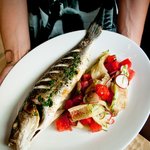 1. Riffle NW
333 NW 13th, Portland, OR 97209
Seafood joint Riffle NW does some of the craziest stuff with fish since Piranha 3D, but, unlike that movie, it's really good. Case in point: Oregon Coast Petrale Sole covered in urchin sauce and served alongside its own deep-fried skeleton. Which you actually eat. And is delicious.