Treat your momma to some culinary goodness with a brunch at famed lady-run eatery Beast, whose menu changes weekly but might feature goodness like brown butter crepes; short rib, wild onion, and morel hash; and asparagus, turnips, green garlic, and market potato, also what you call a super-lazy person who went to the store to buy more chips.
Recommended Video
Prosciutto- and Provolone-Stuffed Flank Steak Is a Meat and Cheese Masterpiece
Previous Venue
Next Venue
Venue Description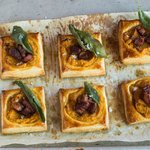 1. Beast
5425 NE 30th Avenue, Portland, OR 97211
Beast, Beard-winning chef Naomi Pomeroy's (she of Knife Fight) amped-up supper club, opened to acclaim in 2007 and never looked back. Six courses can include anything Pomeroy has imagined, and the fixed-price meals are served at communal tables. These meat-heavy dishes make for a truly unique and unforgettable Portland dining experience.