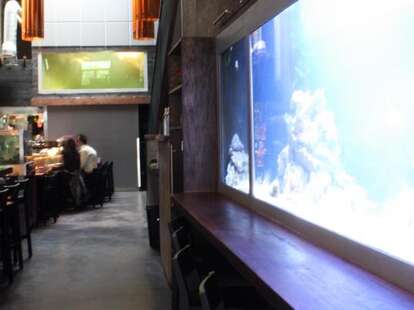 Having aquariums in a sushi joint may seem a little sadistic, until you realize that Phish are happy to share pretty much any kind of joint. Rocking 2100gals of fin-filled water: Uchu.
From a resto team featuring both a "culinary hedonist" and an "aquarist", Uchu's your totally run-of-the-mill fried chicken & sushi-ery, with a sustainably minded Mermaid Yakuza vibe conveyed by barrel-like slated teak swag lights, a sushi bar for ten, an airy loft, and two glowing aquariums including a 1300gal coral number and an 800gal koi tank, though you'd think a defensive lineman with multiple gun arrests wouldn't be all that shy. Their coop n' cove mashup menu's comprised of cracklin' crisp Southern fried chicken beside options like house-cured salty/ vinegary mackerel; a ramen with a fatty, nearly black broth and roasted pork shoulder; and rolls like simmered pork belly and hot mustard, plus the cuke/ mango/ red pepper Jungle Roll with jungle sauce, which you may recognize from EVERY FRATERNITY PARTY EVER In addition to taps from Sapporo to a Rogue riff on Japanese ale, the drinks side offers a Galanga Manhattan with Bulleit/ sweet vermouth/ muddled galanga root, and an Aviation gin/ sake/ Campari/ cucumber brain-fogger called the Wind Up Bird, though drink too many and you might feel more like Kafka on the floor.
While the tanks are certainly mesmerizing, the owners note that the saltwater centerpiece is still a work in progress and as the system stabilizes they'll be adding way more coral, meaning Phish fans can expect a lot more reef...er.