Because this is America, Samui Thai Kitchen's turning out the necessary standards like pad Thai and drunken noodles, but it's more recommended that you say Phuket and try one of its many dishes that're popular around the southern Thai border with Malaysia, and are unavailable anywhere else in Portland. The unassuming spot on the main Hawthorne drag looks like it could be a blue-plate diner, at least until you get a white one overflowing with highly pronounceable dishes like Kra-Bi Kuay Tiew Nuer Toun beef fillet w/ meatballs & pork cracklings, Sukhothai Kuay Tiew Tom Yum w/ roasted pork & fish balls, and the Pad Me Hoon vermicelli stir fry w/ broccoli. There's also a huge seafood selection offering everything from crab fried rice and "Buffalo" calamari to Prawn Tamarind w/ shallots, prawn curry, and a sweet/sour chili-covered hunk of salmon known as Raad Prik, also what Lori Loughlin called that rotten Bart Taylor during the big BMX race. Prices on many dishes are cut in half during weekday lunch, but no matter the time of day, you should save room for desserts like mango sticky rice, ice cream w/ fried bananas, and a deep-fried Snickers bar, because again, this is America.
Recommended Video
Potato Skin-Breaded Queso Balls Will Make All Other Apps Obsolete
Previous Venue
Next Venue
Venue Description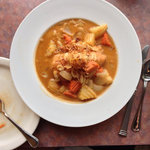 1. Samui Thai Kitchen
3616 SE Hawthorne Blvd, Portland, OR 97214
Samui is an island in southern Thailand, the region of the country that shares a border with Malaysia. The proximity of the two countries has resulted in a large crossover of cultural particularities, and cooking has certainly been influenced. The people at Samui Thai Kitchen decided to bring their favorite food from home all the way to Portland, turning out American favorites like pad Thai and drunken noodles alongside more authentic dishes like Massaman curry, green curry with beef filet, and soup nuer.