More fun than a religious furniture-maker who bakes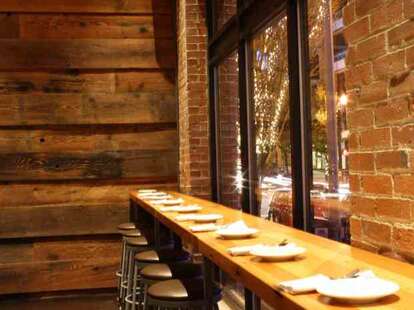 A concept birthed during the first casual encounter (not that kind) between Nostrana's three-time Beard-nominated chef/owner and the worldly bartender who helped launch Aviation Gin, Oven & Shaker's a massive pizzeria/saloon combining the former's brick oven skillz with the latter's vision of what a bar should be. The result: party-perfect, high-ceilinged, Deadwood-gets-a-subscription-to-Dwell digs where the mandate is "to have fun", a refreshing change of pace to all those pizzerias where everyone watches Beaches and cries. Check out the delicious duality:
Oven: Recipes mined on an expedition to explore Italian street food include big crispy Arancini (including a boldly saffron'd beef-stuffed number), Fino in Fondo salumi paired with slightly sweet, pillowy fried dumplings, and, naturally, show-stopping pizzas including a wild fennel sausage pie topped with roasted red jalapenos courtesy of a brick "magic oven" that's capable of reaching 800deg, and's clearly powered by one helluva big light bulb.
Shaker: The aforementioned tender's 14-years-in-the-works liquid love is split between spirit-forward "strong" drinks like the vodka/ Stone Pine liqueur/ vermouth/ bitters Adagio; sugar-minimal, palate-cleansing "dry" guys including the vintage Imperial Applejack Rabbit with maple syrup and Brut; and balanced "fresh" ones like the aged rum/ ginger syrup Pineapple Trainwreck, although admittedly, Kenny Powers was pretty good in that movie.
As O&S moves forward, expect to see a menu that changes seasonally, and, as soon as their gelato machine escapes its holding cell in Georgia, a roster of "playful and unusual" cold treats like a honey and vinegar sorbetta, a welcome departure from the standard depressing pizzeria dessert of watching Requiem for a Dream while getting really worried about that scab on your arm.