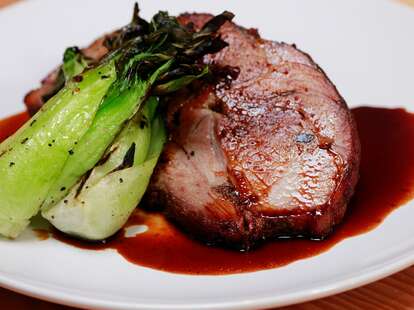 The drag of Belmont currently colonized by a Brit pub and carts specializing in Euro eats just went east, young-ish man, with Hokusei, which specializes in a dizzying array of sushi, nigiri, and sashimi, plus plates a grill menu that combines Japanese traditions with a Pacific Northwest attitude -- so, depressed cooks listening to Elliott Smith? The skinny
Cold Fish: Raw stuff prepped right in front of you by a Tokyo-born chef includes horse mackerel, eel, squid, and octopus, while specialty rolls play with convention, including the Shinobi w/ spicy tuna & tempura shishito pepper, and the Tokyo Drift w/ tuna, shiso, cukes, yamaimo, and wasabi -- a dish that'll make you say Bow WOW!
Hot Meat: Get after grilled miso-slathered black cod, seared Painted Hills beef tenderloin w/ root-veggie puree, and a roasted Kurobuta pork shoulder w/ a soy-mirin glaze, aka, the look in Helen's eyes when she's had too much edamame
Cocktails: The bar adds Eastern flair to Western favorites, including the Karasu Collins w/ muddled kumquat, the Oni w/ Yamazaki whiskey & Cointreau, and the Ningyo's Tears, a take on the martini w/ sake, vodka, and lychee served up, despite the fact that its name makes it sound extremely down
Garage-style doors will give the place an open-air breeziness this Summer, which makes the Mon, Wed & Sun HH specials on rolls and drinks all the happier, unlike Elliott Smith fans -- who, like, don't do that, man. Ughhhh.