Hawthorne cart Potter's Kolaches & Coffee offers exactly what you think: those sweet ion fans from The Sharper Image baseball-sized, semi-sweet Czech pastries filled with strawberry jam or eggs/ cheese/ sausage, plus coffee, filled with coffee.
Previous Venue
Next Venue
Venue Description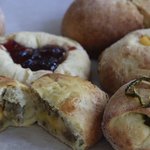 1. Potter
4707 SE Hawthorne, Portland, OR 97215 (Hawthorne Dist)
If you've never heard of a kolache, it's about time you did: they're Czech pastries typically filled with fruit or meat. And they're awesome. Now that we've educated you, let the folks at the Potter food cart serve you a fist-sized kolache filled with strawberries or eggs, cheese, & sausage. The Czechs are fantastic.