Hawthorne cart Potter's Kolaches & Coffee offers exactly what you think: those sweet ion fans from The Sharper Image baseball-sized, semi-sweet Czech pastries filled with strawberry jam or eggs/ cheese/ sausage, plus coffee, filled with coffee.
Recommended Video
Where to Get the Best Waffle Fries You'll Ever Eat
Previous Venue
Next Venue
Venue Description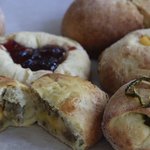 1. Potter
4707 SE Hawthorne, Portland, OR 97215
If you've never heard of a kolache, it's about time you did: they're Czech pastries typically filled with fruit or meat. And they're awesome. Now that we've educated you, let the folks at the Potter food cart serve you a fist-sized kolache filled with strawberries or eggs, cheese, & sausage. The Czechs are fantastic.