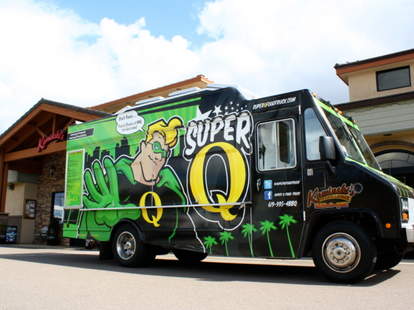 With everyone so excited about rebooting DC and Marvel, you can't swing a dead cat these days without hitting a superhero, unless it's Shadowcat, in which case it'll just sort of go right through her, like so many achingly sweet attempted kisses. Now the masked avengers are taking over your food too, with the Super Q Food Truck.
From a family with over 45 years in the hospitality biz, the Q's hitting the streets from North to South County next week to sling their laboriously smoked (15 hours) "All American BBQ" out of a truck adorned with a cartoon hero sporting grill tongs, a squirt bottle, and a green eye mask, so hopefully his powers include being impervious to copyright infringement suits from Seth Rogen. Simple mouth-waterers include a pulled pork sandwich topped with coleslaw, a pulled chicken joint with caramelized onions, and a beef brisket, all prepped at Poway's Kaminskis via a 900lb smoker, so apparently even though Christina Aguilera's let herself go, she's still getting work. Further fattening comes via specialty 'wiches like the jalapeno-topped Brisket & Cheddar and a meat-topped mac & cheese on grilled sourdough, plus sides from the traditional (sweet potato fries, tater salad, etc.) to the spiced up meat/ pico de gallo/ cheese/jalapeno "BBQ Asada Fries", which sound almost as tasty as BBQ Posada Thighs -- dude crouches like all day long!
To keep you guessing, they'll be dishing periodic specials like baby back pork ribs, and the meat/ pico/ cheese/ chipotle/ cilantro "Smokin' Taco", something Shadowcat keeps promising reluctant teenage boys she has. Why won't anyone love her?!