Seriously... eat rattlesnake wieners from an art gallery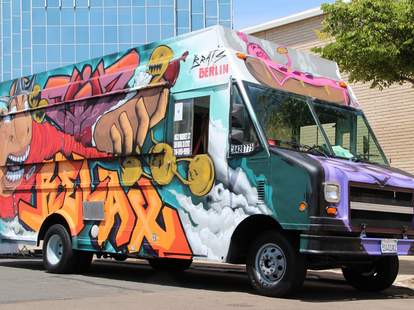 From the globe-trotting folks who got the idea for Crepes Bonaparte from the mean (but more in a judgmental way) streets of France, Brats Berlin runs on a similarly borrowed theme taken from a trip there in which they were inspired by the East Side Gallery: a 1.3km stretch that was first street-arted in 1990 to celebrate freedom and peace/ express hope for the future (boo!), before being covered by more graffiti art (yay!), and then remastered without the original artists' permission, 'cause screw those hippies! Right?!?!
In the spirit of showcasing the work of more artists, this beast will be posting up around town, but don't get too used to the skin, as they'll be swapping it out every six months to showcase the work of a new local talent. And just like parents in La Jolla, the truck will be strictly making brats, which can be dressed to spec w/ grilled onions, peppers, or sauerkraut, and're all served with fresh-cut Belgian fries, which are almost identical to the French ones, except Sarah Palin will eat them. As for what you're dressing up, snausages start off all innocent with the traditional bratwurst and sweet Hawaiian, then get cray with Kangaroo Cajun & Smoked Alligator Andouille, then get cray cray cray with the Rattlesnake & Pheasant w/ jalapeno for a hopefully-not-lethal bite.
If you think you have the skills to make your street-art go mobile, upload your work right here, but just know: it will eventually end up being destroyed, hippie.