Ask a Zonie about AZ-headquarter'd Pita Jungle and they'll likely brainwash you and make you wear Nike tennis shoes while regaling you with stories about how this chain has a serious cult following because of its surprisingly healthy Mediterranean classics, twists like Philly steak pitas topped with mozzarella, and specialties like wood-fired mahi mahi served with cilantro-jalapeno hummus, pico de gallo, and pita chips.
Recommended Video
These Loaded Mediterranean Fries Are a Perfect Excuse to Eat Potatoes for Dinner
Previous Venue
Next Venue
Venue Description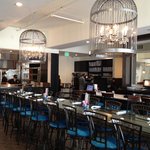 1. Pita Jungle
1045 University Ave, Hillcrest, CA 91105
Pita Jungle is like the Soul Cycle of food...in Arizona and now San Diego...for dudes. Its cult-like following for the healthy mediterranean cuisine is startling - and may make you believe you could actually go Vegan after realizing how many items on the menu are Vegan and Allergen-free. But if that ain't your cup of coconut water, then just get a Chipotle Chicken Lavosh Pizza and call it an afternoon (cause you'll obviously be back for dinner...).