Gourmet eats move North of the Park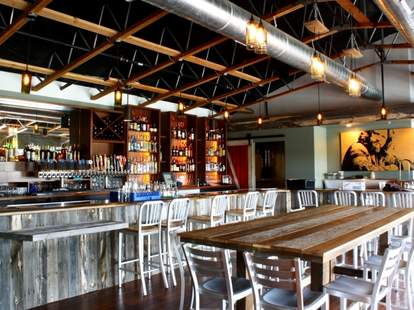 There are a lot of reasons to move up to North County, though none more important than closer proximity to the No Fear outlet store in Carlsbad. And yes, they do have headbands. Moving up the coast almost assuredly for that reason, the peeps behind Solace & Moonlight Lounge.
Because North Park is so hip it's barely even hip anymore, the good folks behind Urban Solace have popped open a new bi-level Enc spot in place of the old Redsand warehouse/ bowl, with a ground floor full of reclaimed wood booths, and a lofty lounge boasting a massive communal table, plus an s-shaped drinks station with an attached raw bar lorded over by a wooden stencil of a Ralph's-card-carrying Jeff Bridges, who hasn't been near that many clams since TronIron Man...ok, whatever, he's rich. Vittles range from shareable bits like a dungeness-crab-filled Brik served with spiced aioli & fried lemon, to man-fortifiers including an all grass-fed rib eye with crème fraiche dill mashers/ grilled asparagus, and a creamed corn/ herb puree-paired, BBQ-glazed Duroc pork belly, though with all this grassy herb, one would expect it'd be the rib eyes that'd be glazed. The bar's 12 taps spew the likes of Avery Salvation and Coronado Brewing's Mermaid's Red, while house 'tails (developed with Blind Tiger Cocktail Co.) weigh in at a staggering 23, from the Lebowski-inspired Dude Abides (white whiskey, Kona coffee liqueur, chilled coffee, half 'n half), to the classically twisted cucumber vodka/ ginger syrup/ ginger beer Cuke Mule -- leaving you to wonder "where did that smuggler hide that cucumber?"
Because wine sometimes does the trick, the bar's rocking 12 rotating taps, all pouring elevated varietals, with no "jug wines" -- so, feel free to drink them with No Fear.