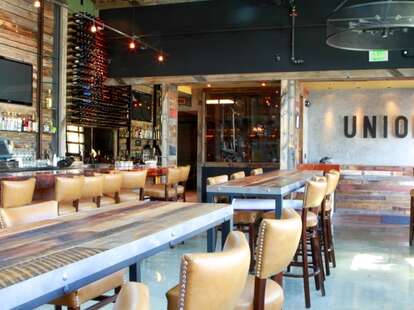 These days, keeping it local's all the rage, whether you're trying to decrease energy consumption by eating farm-to-table cooking or just rate baby-doll dresses by watching Chrissy Russo's Fox5 weather forecasts. For a fresh spot highlighting SD's greatest local bounty (beer), hit Union Kitchen & Tap.
Launching tonight in the former, unrecognizably revamped (yep, absolutely no pillars!) When In Rome space, UK&T's a cavernous exposed-brick eatery/watering hole tapping only the finest local brew efforts, with two private dining & drinking rooms lorded over by a "26ft-high barrel roof" constructed out of a Wyoming snow fence that's 20yrs old, so all it can drink in is the ambiance. The kitchen's doling out "New American cuisine" like mustard-glazed boar ribs with blue cheese and coleslaw, garlic/ shaved Parm/ spinach "White Clam" flatbreads, hormone-free steaks, and a potato puree/ pickled cabbage/ lemon butter "Chicken Fried Duck Confit", which'll probably call foul for being fried like a lesser fowl. As for the second half of their namesake, locals spewing from their 20 taps range from Green Flash's Le Freak to Iron Fist Brewing's Double Fisted, and they're also serving up bottled standards and 22oz'ers like Russian River's Belgian Damnation and Lagunitas' Imperial Double IPA Hop Stoopid, also what verbally abusive rabbit fathers say to their kids.
And in case you need to go hard, they've also got a 'tail list including the gin/ pepper/ basil/ lime Serrano Martini, and the vodka/ fresh strawberry/ agave/ lemon/ balsamic vinegar "Strawberry Fields", which actually isn't that bad of a location idea for Chrissy's next outfit photo shoot, especially if she wears that sultry red number from last week.