Good luck finishing all these beers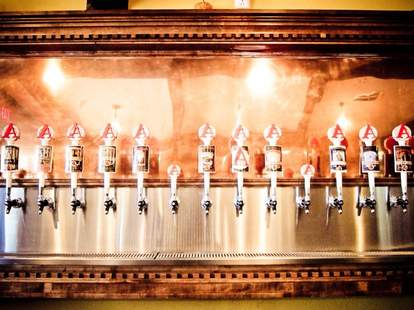 Stone's Dr. Bill Sysak and Adam Avery of Boulder's Avery Brewing are about to do something scandalous and they want you to get your mouth involved. That's right, they're holding their first-ever, all barrel-aged-beer seven-courser, pairing each round with two (count 'em... since you'll be able to do it quickly) selections from Avery's experimental Barrel Series, where "anything, and we mean ANYTHING, goes". If you're bad at math, you know that's a whole 11 beers! If you're good at math, don't judge us as you run through impending deliciousness like:
Passed Apps: Things will kick off all casual-like with chorizo-stuffed fried green olives, seared ahi, and blue cheese-stuffed mushrooms to enjoy while sipping on the Immitis sour ale aged in Zinfandel barrels, and a sour cherry stout Margarete.
Braised Oxtail: Served with tomato confit and a black truffle/ white bean puree, this course will be paired with the Brabant wild ale also aged in Zinfandel wood, and the 39% Cab, 35% Chardonnay, 13% Port, 13% bourbon-aged Sui Generis, which is Latin for unique, and American for "I'm getting alarmingly close to sexting my ex-girlfriend".
Dungeness Crab Bisque: Because it's souper hard to eat, you'll need to wash this guy down with the Cab Sauv barrel-aged Récolte Sauvage, and an American wild ale aged for 2yrs in Cab barrels they've dubbed the Meretrix, named for what they called registered prostitutes in ancient Rome (seriously), who likely had no problem getting their mouths involved in scandalous activities.