The spanking new sister restaurant to the Hotel Palomar's Saltbox, Cusp sits atop the 11th floor of the freshly revamped Hotel La Jolla (coincidentally, a baller place to get a room if you're spanking someone new). There's an open kitchen surrounded by a massive stone bar, and artistic accents like metal, leaf-shaped light fixtures, but you'll really want to be gazing through floor-to-ceiling windows offering insane views of La Jolla Shores, all whilst smashing cocktails that the barman (formerly of Chicago's Sable!) has designed around "coastal Mediterranean" cuisine engineered by a chef previously at LA's Delphine. Shared plates play on low-brow classics (like Bagel Bites-esque Pepperoni Rolls with roasted garlic, oven-dried tomato, roasted garlic, mozz, and a spicy tomato dipping sauce), or just go straight-up insanely tasty, like the crispy pork belly glazed with fiery/sweet honey-Sriracha, and a slew of flatbreads made with dough fermented for three days -- so yeah, they've got flatbreads fo' days. Heartier fare includes proteins like cast iron-roasted hanger steak with charred rapini, cipollini onion, romesco, and crushed marbled potatoes, or pan-roasted/-jus'd Jidori Chicken on a bed of organic polenta, upon hearing which Louie Anderson exclaimed "wait, why am I sleeping on this stupid, non-edible mattress?". And as for that well-tailored 'tail menu, the first half sticks to lighter libations like the served-tall Wish You Were Here (Old Overholt rye, Aperol, pineapple syrup), while the "Now That We're Familiar..." section stocks beefier numbers like the mezcal/ crème de Framboise/ mint Amigo Favorito, though checking into this hotel together might ruin your amigo-ship.
Recommended Video
The Mexican-Style Grasshopper Tacos You Have to Try When You're in South Beach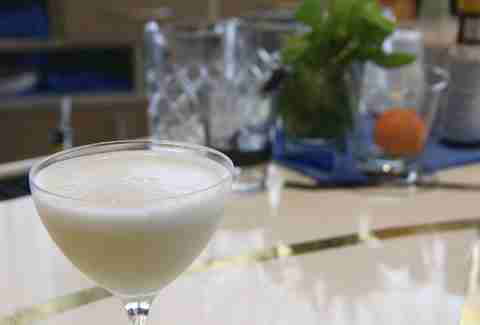 Previous Venue
Next Venue
Venue Description
1. Cusp Dining & Drinks
7955 La Jolla Shores Dr, La Jolla, CA 92037
Cusp is ajoined to the 11th floor of Hotel La Jolla (just a casual, really swank place). This Mediterranean cuisine must-try is just killing it with their La Jolla location (complete with an outdoor dining area and a pool), and their happy hour lasts from 4-7pm. It's like they know exactly what people want, or something...