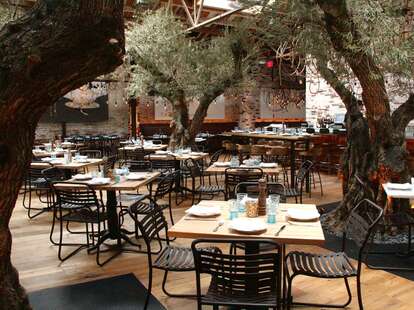 Ready to crush your Hunger Games even more intensely than Peeta crushes on Katniss, Herringbone is the fifth fabric-named piece of chef Brian Malarkey & James Brennan's restaurant puzzle (perhaps you recall Searsucker & Burlap & Gingham & Gabardine). Set in La Jolla, Malarkey tapped Top Chef alum Amanda Baumgarten to create a menu of "Ocean Bazaar" cuisine in a vintage warehouse now set up to give off a beach (ware)house vibe thanks to sea & sand artifacts, and six 100yr-old olive trees w/ twisted trunks and gnarled limbs, as Gnarls limbs would've been a little Crazy.
The "fish meets field" offerings start off with smaller items like hamachi, pancetta & chili; skillet mussels w/ tasso ham; and the clams w/ bacon made from wild boar, also Roger Ebert's original two-word review of the movie Nell, before the copy editors got to it. Bigger plates include Maryland soft shell blue crab w/ creamed corn, tomato & bacon vinaigrette, and, for those who don't do fish, you get an extended eye roll, two unbelieving looks, and a patronizing sigh a lamb shank w/ mashed taters, black olives & piquillo peppers.
Unless you've been big spooning Rip Van Winkle for the past couple years, you know damn well Snake Oil is behind the cocktail list, featuring hitters like the Peter Rabbit (Pimm's #1, bruised basil, pressed lemon) and the rum/Cognac/Cointreau Between The Sheets, which is so heavy on booze, you may need to worry about Catching Fire yourself.