Those who start a fad are forced to keep expanding lest they lose out to competition: just ask the creator of Troll dolls, who ironically now lives under a bridge. For cupcakes from the confectioners who started the craze, get thee to Sprinkles. Igniting our nation's cupcake mania with the opening of their original Beverly Hills location six years ago, Sprinkles is finally hitting SD with a light-wooded "clean and whimsical" treat boutique nestled in the heart of La Jolla, and representing an "organic evolution for Sprinkles", meaning you better eat 'em before those amoeba-shaped suckers grow flagella and squirm away. The 'cakes are baked fresh in small batches throughout the day, with the ~25 rotating flavors (which you can track via their daily flavor schedule) ranging from their classic Red Velvet (available "Southern style", gluten free & vegan), to Chai Latte (spiced chai tea cake with chai-vanilla frosting), to Vanilla Milk Chocolate, with choco-cream cheese frosting on a vanilla cake flavored with "Madagascar bourbon", also the on-set drink behind John Leguizamo's slurred sloth. They've also got specials like The King (banana cake w/ peanut butter frosting) in honor of Elvis' 76th birthday, pooch-edible Doggie Cupcakes (made with unbleached flour/ egg/ honey/ vanilla cake and a yogurt frosting), and combo packages like the red velvet/marshmallow/dark chocolate, "just in time for Valentine's Day" "XOX Box" -- though it being Valentine's, shouldn't you be doing that anyway? Everything's available for delivery/online ordering, and to celebrate opening week, the outfit's "Sprinklesmobile" will be hitting hotspots all around town to dole out free baked deliciousness, which you better show up early for, as Danish woodcutter/pink hair-enthusiast Thomas Dam's gotta eat somehow!
Recommended Video
These Are the Purest Ice Cream Sandwiches Money Can Buy
Previous Venue
Next Venue
Venue Description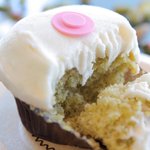 1. Sprinkles
8855 Villa La Jolla Dr, San Diego, CA 92037
Sprinkles ignited a cupcake mania when it opened its first Beverly Hills store in 2005. Since then, the bakery has expanded across the country -- with both brick-and-mortar outposts and cupcake ATMs -- and added ice cream and cookies along the way. Bullseye-dotted cupcakes remain the trademark, with flavors varying from mainstays like red velvet (available in gluten-free, sugar-free, and vegan varieties) and peanut butter chocolate to seasonal creations like olive oil and pumpkin.