Former Red Velvet chef drops new tasting menu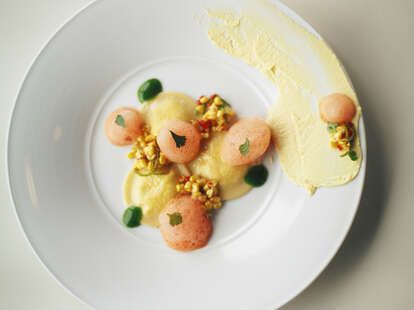 Taking things to the next level -- or up 10 levels if you want to be a D about it -- the culinary wizard behind the former Red Velvet Wine Bar now posting up at La Valencia's lofty Sky Room. He's piecing together an all-new tasting menu in which the four main ingredients are listed plainly, but each is altered in at least two intriguing ways, so don't be surprised if your food appears to have the head of a werewolf, or a werebear, or a weretiger, or a thunder weredragon. Here's just a small example of what to expect:
Scallop:Built around a raw scallop, this dish combines vinegar-compressed watermelon, a variety of shaved radishes tweaked for a surprise texture (sandpaper?!?), and seedless cucumber in multiple forms, all of which you'll need to get notarized.
Pork:... is what's for dinner... whenever you have this dish of confit belly that's cured, then cooked for 12-14hrs, then piped into housemade ravioli, which in turn is dressed up with a sweet corn puree and blueberry three ways (not as hot as they sound, but still pretty sweet).
Strawberry: Kind of like Strawberry Shortcake for people from Rancho, this meal finisher's a blend of four forms of strawberries (sorbet, puree, and more!), plus yogurt two ways, ripped vanilla sponge cake, and a balsamic gel, all of which are likely to Alter you into looking suspiciously like that floating orb.