Trio behind Michael's triumphantly return, bring food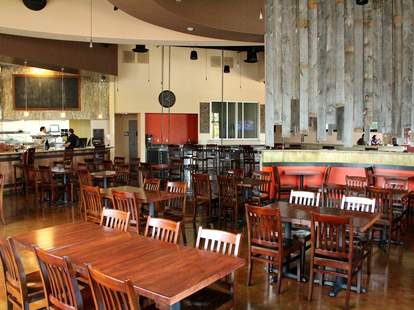 After taking a year-long break from the biz, the former Michael's Grill team are back in style, trading in the please-everyone menu of the previous joint for a please-the- damn hippiesEarth one, sourcing only organic goodness from a total of eight CA producers, hopefully none of which are named Spector, as that dude's already made his killing.
A revamp of the former Via Moto, the high-ceilinged interior now features giant wooden staves extending down from the silo'd roof, a huge community table suspended from heavy chains in the center, and a U-shaped bar in back stretching to the partially covered side patio with a stone fireplace. Though the menu, like our relationship with Chrissy Russo, will always be in flux (as they're at the mercy of whatever's available fresh), for now the chef'll be crafting everything from infused dipping oils and an all-CA cheese plate, to a Chicken Habanero pizza with fresh mozz & cheddar, to sweet, red wine-braised short ribs. Making the most of his limited supply, he'll also be preparing weekend-only numbers like mojo-sauced Caribbean chicken wings, and a shrimp & octopus ceviche served on a roasted sweet pepper they call "Aguachile" or "what T-Boz yelled every time Left Eye picked up a lighter"
Reaping even more of our fine state's bounty, the bar's serving up 17 gamut-running wines, and a 14-strong draft list with mostly local faves like Stumblefoot Chipotle Stout and Manzanita Riverwalk Blonde, which sounds great, as long as that river doesn't run by Spector's place.