Bringing the best of Chico to Solana Beach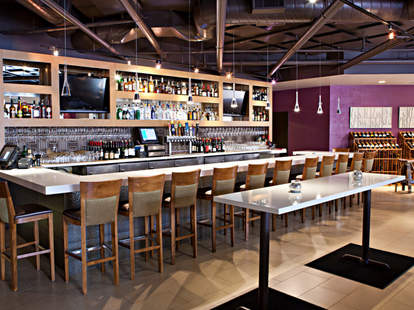 Almost everyone that goes to Chico comes back in love, though how can you not, when they boast the 13th-largest municipally owned city park in the nation? Stealing one of the only gems in that city not named after John Bidwell, the guys behind Crush Italian Cuisine & Lounge.
Brother resto of the Chico fave US Olympic Bobsledder Emily Azevedo! of the same name, CICL's a monstrous 180-seat, vino bottle-lined Italian eatery in the former Pacific Coast Grill, which has been made over with room-spanning booths, a swanky lounge, a 30-seat deck with a community table, local art gracing the walls, and wine-barrel-stave chairs from Barrelly Made It. Highlights from the vittles menu include Pappardelle Carbonara with a poached egg, chives & preserved lemon butter, and a slow-braised Lamb Shank, also how Louie Anderson answers the question, "What would be your ideal prison weapon?". They're pouring a respectable 10 drafts (including Delirium Nocturnum!), stocking 20 bottled brews & 160+ of wine, and crafting specialty 'tails like the Woodford Reserve/ blackberry/ fresh mint "Secretariat", presumably named because, no matter what your race, it'll destroy you.
To keep your pockets padded, they've got a daily HH from 430-630p, which they're doubling up with a 10p-midnight deal Wed-Sat, during which house wine is $5 and drafts're $3, plus soon they'll be bringing in live music, but would you expect anything less from a place that originated in the city with the world's largest working yo-yo?!?